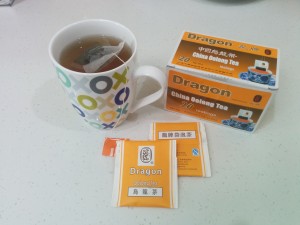 I found this tea in an Asian grocery store, and nearly didn't buy it. Why? Because it was so cheap. However, it turns out you can't judge a tea from its price alone.
My first sip tasted almost sweet (although that may have been due to my palate at the time). This is a by-no-means-inferior Oolong tea. The flavour enters the brew quickly – leave the bag in the cup for more than a few minutes, and the tea will be quite a dark brown, with the bitterness beginning to appear. So you don't need to steep it for long to get a perfect cuppa.
Almost all the text on the package is in Chinese, hence, alas, unreadable for me.